Home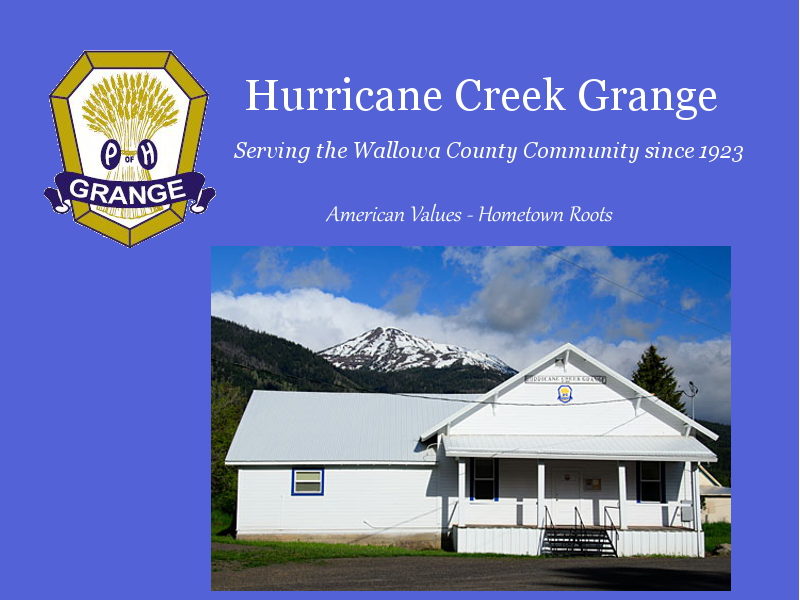 The Grange is a community based, fraternal organization that enjoys working to support the needs of our Wallowa County community.  We volunteer hundreds of hours of assistance at events throughout the year.  As Patrons of Husbandry, Grange has a rich history in agriculture and education.
Hurricane Creek Grange meets the Second Tuesday of the month at 6:00 PM in our Grange Hall at 82930 Airport Lane, Joseph, Oregon. Visitors are welcome.  See the About Us page for more information.
Great Potato Drive
The Great Potato Drive is underway!
Hurricane Creek Grange has a great project coordinated by member Randi Jandt. Working to support the Oregon Food Bank through our regional Community Connections and partnering with local potato farmer, Patrick Theil, to prepare and deliver over 1,500 pounds of potatoes to Community Connection in La Grande, 

Grange members have contributed over $1,300 for the Great Potato Drive so far.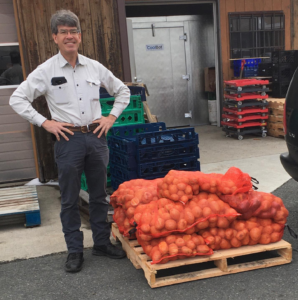 Second Saturday Breakfast -- Cancelled for April, 2020
Hurricane Creek Grange offers an All-You-Can-Eat Breakfast on the second Saturday of each month from 7:00 AM to 10:00 AM at our Grange Hall.  We offer pancakes, eggs, bacon, sausage gravy, and biscuits with coffee, juice, and hot chocolate.  A donation of $8.00 for adults, $4.00 for children under 12 is requested.  Stop by and enjoy a great meal and have fun visiting with folks from throughout the community.
Community BBQ
Our August 18th, 2019 Community BBQ was a great success.  The Wallowa County Quilt Guild distributed quilts to area veterans, everyone enjoyed barbequed hamburgers and hot dogs, wonderful Grange salads, and desserts with and ice cream social provided by the Oregon State Grange G.R.O.W. club.  After dining and visiting, Jim and Holley Akenson gave a presentation on their 7003 days in the Frank Church River of No Return Wilderness.  Here are some of the pictures: