Box Social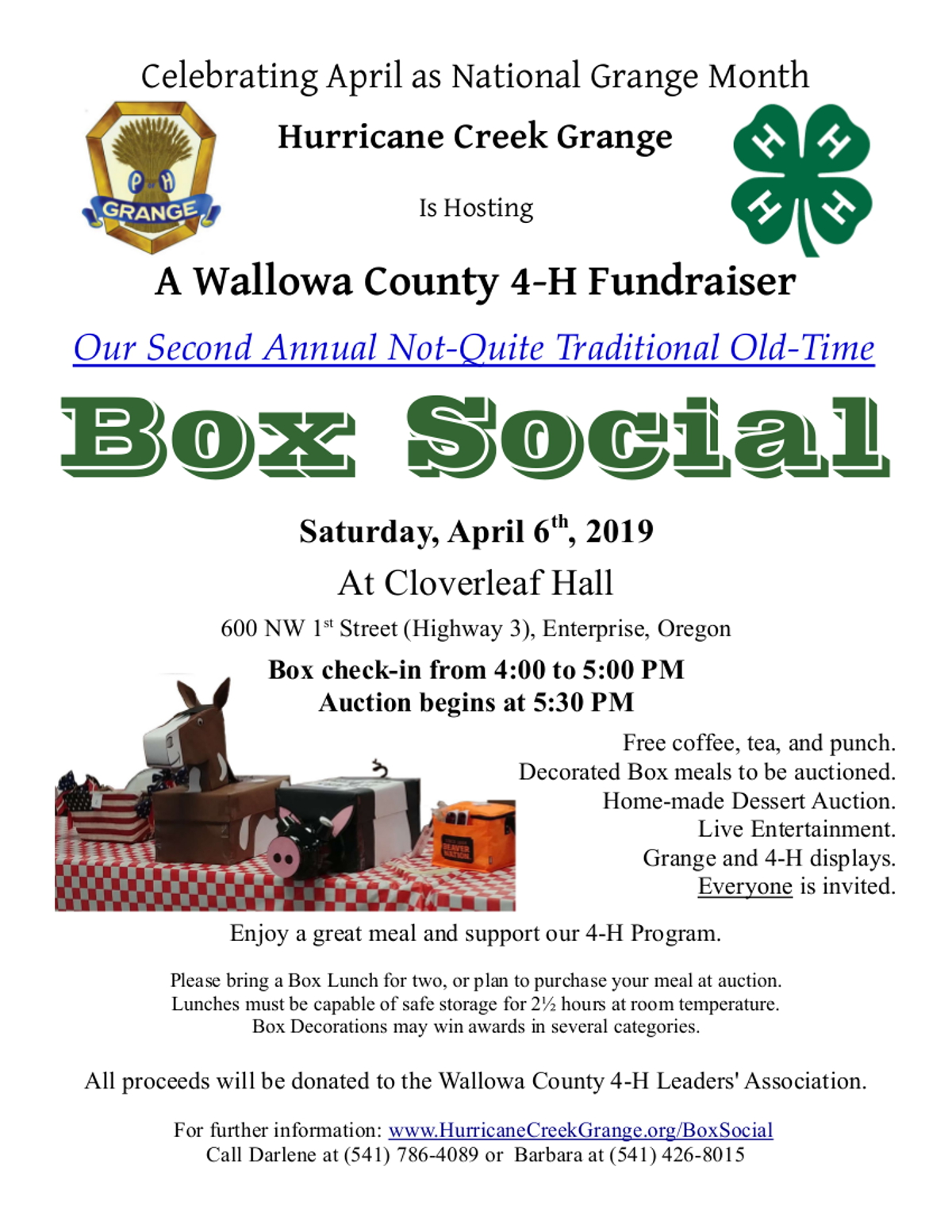 Additional Information
On the first Saturday of April the Hurricane Creek Grange will be hosting a Box Social fundraiser for the second year in a row at Cloverleaf Hall in Enterprise. Last year the Hurricane Creek Grange had sought a project that would benefit youth in agriculture while also celebrating the 150th anniversary of the National Grange, and decided to hold a box social last February. A wonderful turn out last time led the Grange to continue the tradition this year. Boxed meals may be delivered between 4:00 and 5:00 PM with the auction following at 5:30 PM.
Box Socials have a long history in the west, acting as community dining events to raise funds since the 1880's. Traditionally, the ladies young and old would prepare a meal for two and package it in a decorated box or basket, then, the men and boys would bid on the boxed meal without any knowledge of who had prepared it. Well, the men weren't supposed to know, but occasionally a hint or two was given. After the auction the buyer of the box and maker of the box meal would share it. The funds generated by the auction were then donated to the predetermined cause.
Hurricane Creek Grange and the Wallowa County 4-H Leaders Association have decided to modify the traditional Box Social in a few ways, but keep the idea behind it alive. Men or women can prepare the meal, and bidding is also open to anyone. The box guidelines are as follows: meals should contain one main dish to feed two adults with two or three side dishes. With food safety in mind, food needs to be packaged to stay at a safe temperature for three hours. Families feeding more than two will bid on the number of boxes needed. Of those with specific dietary needs, the Grange will have a variety of meal options ready to prepare custom meal requests. To round off the night a dessert auction will follow the main meal.
As par with tradition, makers of the box are encouraged to decorate their boxes or baskets. Judges will award prizes for the best box decorations in various categories. Grange and 4-H displays will be available for viewing, and entertainment is planned during the meal.
Everyone in the community is invited to attend on April 6th, and help support the 4-H program in Wallowa County. Hurricane Creek Grange will donate all funds generated by this box social to the Wallowa County 4-H Leaders Association. Auction starts at 5:30 PM.